48x10 Home - Map - Daily Reports - Photo Gallery
Adventure America Motorcycle Ride
The 48x10 - Visiting 48 States in 10 Days
An 8,000 mile ride around America
On August 7, 2016, 81 year old Del Lonnquist and his 60 year old daughter, Linda Darelius of Helena, Montana attempted the Iron Butt Association 48x10 ride. The 10 day, 8,000 mile ride touched all of the Lower 48 states.
We began the ride with an Iron Butt Association Saddlesore 1000-1 ride from Helena, Montana to Needles, CA. The thousand mile ride was completed in 21 hours.
We began the 48x10 ride from Needles and ended it in Umatilla, OR 10 days and 16 hours later, missing the ten day IBA limit by 16 hours.
The two rides combined with the ride from Oregon back to Montana totaled 10,116 miles on the Odometer.
The map shows we missed Maine but that was because the battery on my cell phone died and we lost our Spotwalla mapping function.



It was an epic adventure and one we will always remember. Thanks to the hundreds of people who followed us on Facebook through our adventure and the to the many we met along the way who gave their best wishes and support.
Thanks to Bill Ryder whose maintenance skills made the 09 Honda VTX 1300 purr like a kitten all the way, to Barry Reddick and Stanton Howe for the good start. Special thanks to Reef for the map we followed and for the prayers and support of many.
We will have a new BLOG post going up on Right Lane America in the near future and are planning a book to chronicle the ride.
In the meantime I will be leaving in the morning on a ride through Montana, the Dakotas and Minnesota to attend a Grandsons wedding.
Thanks again everyone for your help and support.
Del & Linda


48x10 Adventure America.
Click here for the map we will be following on our ride. This route was used by Reef & Smiley and should make a great ride.

Click here to follow our:
Adventure America Ride Map
Del currently holds the record as the oldest rider to complete
the Iron Butt Association 50cc Quest.
Coast to Coast from San Diego, CA to Jacksonville, FL, 2,373 miles in under 50 hours.

Iron Butt Association Finishers List:
Oldest rider to finish the 50cc Quest:
Del Lonnquist Helena, MT 10/08/15 - 80 years young!


Honda VTX 1300 / Velorex sidecar SDO>JAX

He will now seek to become the oldest rider in Iron Butt Association history to complete the 48x10.

Linda has completed the IBA SS 1000-1, one thousand miles in under 24 hours as the passenger in a sidecar and will now attempt the 48x10 as Navigator, photographer and writer.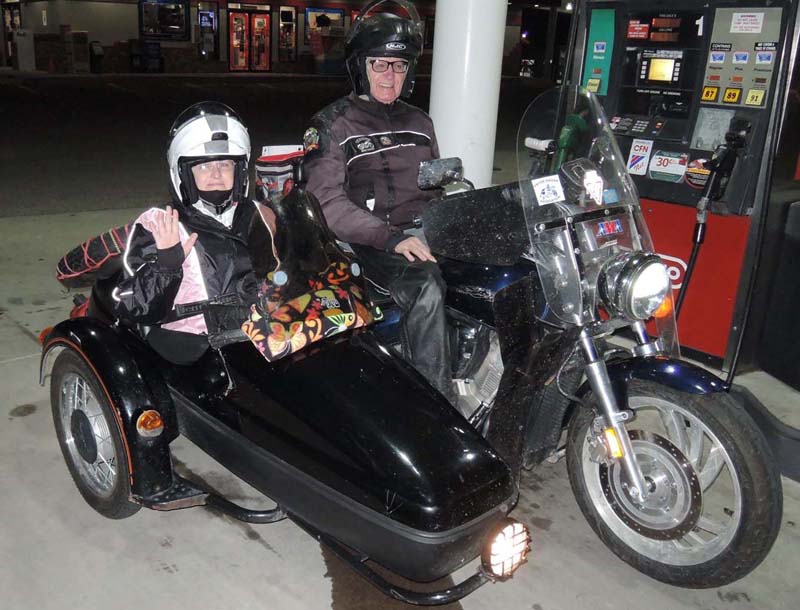 Thanks to Bill Ryder the Sculptured Animal Artist for sponsoring our ride.

Using his many years of motorcycle riding and maintenance skills, Bill has our 2009 Honda VTX 1300cc bike and Velorex sidecar in best possible condition for the ride.

Besides his sculptures Bill provides Art Welding lessons for students from all over Montana.
Watch for us, we'll be in the Right Lane America